VA Cash Out Refinance Rates, Guidelines and Limits
---
Posted on: May 15, 2015
The VA cash out refinance program is popular with Veterans who want to lower their home loan rate and at the same time, tap into their home's equity.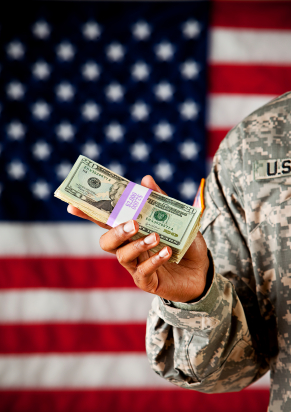 Qualified veterans can use cash proceeds from their refinance to make home upgrades, pay down high interest credit cards, or take a vacation. Low interest rates and flexible payment terms make it a great time to invest in your home and use equity to pay off other expenses.
Check today's VA cash out refinance rates and see if you qualify.
How the VA Cash Out Refinance Works
A VA cash out refinance loan allows a qualified veteran to one or both of two things. 1) Open a loan that is larger than their current loan, and receive proceeds after closing, and/or; 2) pay off a loan that is not currently a VA loan.
So, if you have an FHA loan or conventional loan, but don't have the equity to refinance with the same type of loan, you could possibly refinance with a VA cash out loan. In some cases, you the lender will allow you to refinance up to 100% of the value of your home (100% LTV) with a VA cash out.
Get a live rate quote for your VA cash out refinance here.
General Cash Out Qualifications and Requirements
VA cash out refinance requirements are fairly similar to those of VA loans to buy a home. First, an applicant must meet VA home loan eligibility requirements. Eligibility can be established for:
Veterans with an Honorable Discharge (includes veterans of the Reserve and National Guard who have served in active duty)
Active duty service members
Current Reserve and members of the National Guard (typically 6 years of service is required)
Unmarried surviving spouses
Commissioned officers of the Public Health and National Oceanic and Atmospheric Administration
All veterans must have been discharged under conditions other than dishonorable
VA cash out loan applicants will submit a Certificate of Eligibility (COE) which the lender can obtain for you fairly quickly. Have a valid DD-214 ready in case the lender needs it. If you are uncertain if you qualify, call (866) 240-3742 to speak with a licensed lender who can answer your questions and help you apply.
Get a live VA cash out rate quote here.
The Application Process and Next Steps
The application process is easy. To get started call (866) 240-3742 to speak with a knowledgeable mortgage professional. Or, simply fill out a short form here. From there, your licensed VA loan expert will guide you through the process.
Here are a few things your mortgage professional will help you determine:
Do I have enough income to meet my monthly mortgage payments, maintain my home, pay my monthly debts and other financial obligations, and still have enough left to pay for food and other living expenses?
Does the refinance apply to the mortgage on the home I am currently living in?
Do I have at least fair credit history?
Do I have my DD-214? (If not, your lender can help you obtain it. This document is needed for your lender to obtain your Certificate of Eligibility.)
Click here to get a VA refinance rate quote.
VA Cash Out Refinance compared to VA Streamline Refinance
A VA cash out refinance is different than the VA streamline refinance. Compare the differences with this chart:
VA cash out compared to VA Streamline Refinance
| | | |
| --- | --- | --- |
| | VA Streamline Refinance | VA Cash out Refinance |
| Cash Out Allowed | No | Yes |
| Can Combine 1st and 2nd Mortgage | No | Yes |
| Maximum Loan to Value (LTV) | No Maximum/Not Verified | 100% in some cases |
| Maximum Loan Amount | Current Loan Balance plus Closing Costs | $721,050 |
| VA Funding Fee | .5% (unless exempt) | 2.15-3.3% (unless exempt) |
| Mortgage Lates Allowed In Last 12 Months | 1 (30 days) | 0 |
| Property Must Be Owner Occupied | No | Yes |
*Standard VA loan limit. Higher loan amounts available in some areas with a VA jumbo loan.
Perhaps the most notable difference between these two programs is that the VA cash out loan has a maximum loan-to-value of 100%, but there is no maximum VA streamline refinance LTV. This is because the VA streamline does not require an appraisal so current value is not determined. An appraisal and value are required for a cash out refinance.
VA Cash Out Refinance Loan Limits
The VA cash out program follows the same maximum lending limits as the VA loan to purchase a home. The standard limit is $417,000 but goes up to $721,050 in high-cost counties in Hawaii, California, Alaska, and other states.
For an in-depth look at VA loan limits, see our VA loan limits page.
Additional benefits of the VA cash out refinance include:
Finance up to 100% loan-to-value (LTV)
Loan can be structured with no out-of-pocket costs
Low 2.15 – 3.3% funding fee (unless exempt)
A VA cash out loan can pay off any type of home loan
The amount of money that you can receive from your loan depends on your current home value and specific lender. When working with one of our qualified lenders, they will make sure that they are able to provide the services you require and answer your questions quickly in regards to how much cash you can receive.
Check today's VA rates by completing a short online form here.
If you are interested in saving money with a VA home loan refinance but aren't interested in the cash out option, visit our VA Streamline Refinance page for more information on the other types of loan refinances that are available.
Source: VA Handbook